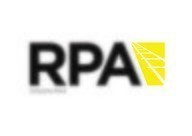 MISSION STATEMENT
To develop a structure that provides Members with the latest industry information and support which enables them to supply the highest quality service to their customers in a safe and timely manner
The Rail Plant Association (RPA) is a limited liability company and was launched 1999. The main purpose of the RPA is to look after the interests of its members who hire specialist plant and equipment for use on the railway infrastructure.
The RPA was set up by members of the Construction Plant-hire Association (CPA). Hirers of rail plant must first become members of the CPA to qualify for membership of the RPA. This ensures that RPA members have access to all the services provided by the CPA.
Additionally, during 2003 we introduced "Associate Member" status; this is for plant related companies who do not require use of the Model Conditions, but who work closely with plant hirers.
The CPA Model Conditions are the conditions under which plant owners generally provide their services and these together with the Rail Specific RPA Supplementary Hire Conditions assist in protecting and safeguarding owners in this very specialist sector of the construction services industry, while remaining compliant with railway standards.
The RPA is a self-financing entity with income mainly raised by annual subscription and from the sale of competency standards. A Management Committee drawn from the RPA membership manages the company and reports to the Directors.
Rail Plant Association Ltd