Plant Theft
Plant theft is an ever-increasing problem for the plant-hire industry. With an estimated £100 million+ of plant stolen per annum, things need to change to stop this from increasing.
If construction plant manufacturers fit anti-theft devices as standard - and most do - hire companies would be in a favorable position to obtain discounts from their insurance company. With this in mind, companies are looking for suitable and effective systems to reduce plant theft. There are a host of different manufacturers producing retro-fitted equipment.
Many plant hirers think that they only need to fit anti-theft devices to new equipment. This is a misnomer - criminals will steal plant of any age that is not secure, and sell it to make profits to fund other criminal activities.
In this section of the CPA website, you can view information and contact security product manufacturers to help you to protect your assets. There is also a list of insurance brokers available at Insurance | Construction Plant-hire Association (cpa.uk.net). These insurers have experience in the construction industry and may be able to give additional advice on asset protection.
'Take Five' to Stop Fraud
The Metropolitan Police, with the support of the Financial Fraud Action UK (FFA UK,) has launched an initiative called 'Take Five' to stop fraud. The idea is to 'Take Five' and to stop and think when your financial information is at stake. This would equally apply when hiring out your plant and equipment to new customers. For more information, visit the ''Take Five' website.
The Five Points to Remember
The advice is to take a moment to think if you receive an unusual request for financial or personal information from someone claiming they're the bank or another trusted organisation. The FFA UK has come up with five basic rules as to how to beat financial fraud.
Never disclose security details, such as your PIN or passwords.
Don't assume an email, text or phone call is genuine.
Don't be rushed - a genuine organisation won't mind waiting.
Listen to your instincts - you know if something doesn't feel right.
Stay in control - don't panic and make a decision you'll regret.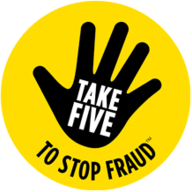 Take a moment to think if you receive an unusual request for financial or personal information.
CPA Contact for Plant Theft
If you have any queries regarding plant theft, please contact CPA Legal Manager David Smith on 07837 468523
Email David Smith